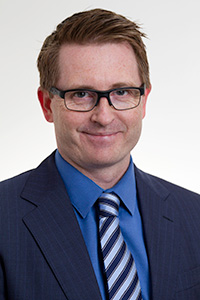 Dr Reynolds graduated with a Medical Degree from the University of Queensland in 1994.  He commenced Specialist Urological training in Queensland in 2000, and was awarded a Urology Fellowship from the Royal Australasian College of Surgeons in 2003.  Dr Reynolds undertook a Fellowship year in Cardiff, Wales in 2003, specialising in Prostate Cancer surgery and Renal Stone surgery.
Dr Reynolds has been working as a Urologist in private practice in Brisbane since 2004.  He maintains a public Urology appointment at the Royal Brisbane and Women's Hospital, where he is actively involved in the teaching of junior doctors and medical students.
Dr Reynolds' special interests include the management of prostate cancer, and after completing post-Fellowship training in robotic surgery, he now offers robotic surgery to suitable patients.
Dr Reynolds also has an interest in the management of lower urinary tract symptoms/benign prostatic disease in men, offering a range of treatments including TURP and laser prostatectomies.  He also manages simple and complex renal stones, with surgical treatment options such as lithotripsy, flexible pyeloscopy and laser, and percutaneous surgery available to his patients.